We will assess your just and equitable compensation for unfair dismissal, redundancy and discrimination including the basic and compensatory awards, future loss of earnings and pension, plus injury to feelings and aggravated damages in discrimination cases.
Click here for the latest facts and figures
Compensation / Redundancy Ready Reckoner
If you are successful in a claim for unfair dismissal, an Employment Tribunal may award the following:-
Re-instatement – you return to work in the same role
Re-engagement – you return to work in a similar role
Compensation – this is usually made up of a basic award and a compensatory award
Basic award
The basic award is calculated by applying a formula using your age, length of service and average weekly gross pay. The weekly pay figure is capped at a maximum of £508 per week from 6th April 2018 and the maximum number of years' service that will be considered is 20. The formula for the award is as follows:-
Years of service below 22 years of age, multiply weekly pay by 0.5
Years of service between 22 and 41, multiply weekly pay by 1
Years of service from 41 onwards, multiply weekly pay by 1.5
The maximum basic award is presently £15,240.
(this formula is also used for calculating a statutory redundancy payment)
Use the table below to find the appropriate multiplier based on your age and number of complete years' service at the date of dismissal and multiply this by your gross weekly pay, subject to the above limit.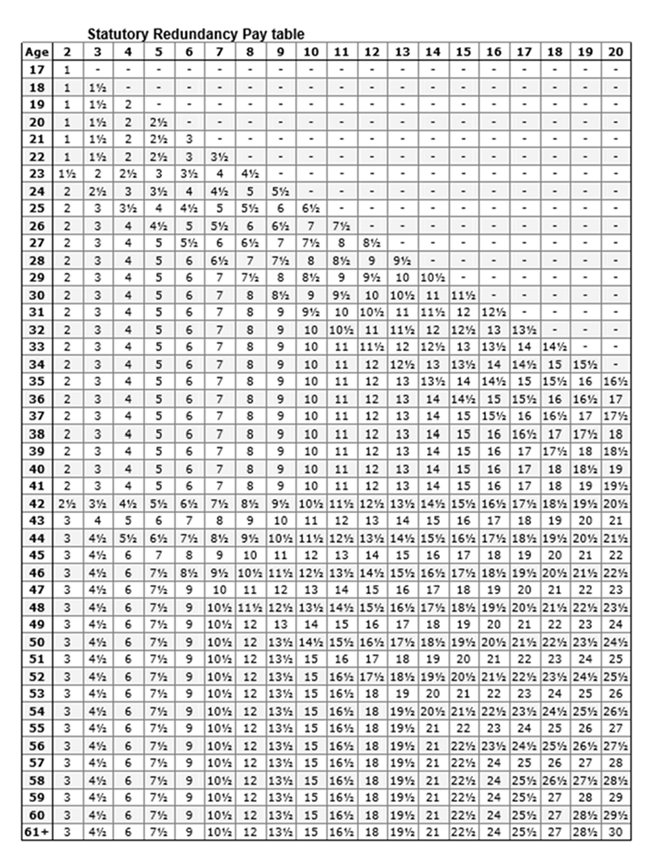 Notes
Employees must have at least two years' continuous service in order to qualify for statutory redundancy pay
A maximum of 20 years' service should be taken into account when calculating both the basic award and the statutory redundancy payment
Reductions
A Tribunal may reduce the basic award if it finds that your conduct before dismissal (or before notice of dismissal), was such that it would be just and equitable to reduce it, even if this did not contribute to your dismissal. If you were dismissed by reason of redundancy, the Tribunal will deduct any redundancy payment you have received from the basic award. Since the formula for calculating the two is the same, it is likely that this will cancel out the basic award entirely. If the Tribunal decides that redundancy was not the principal reason for your dismissal, then no reduction will be made.
Compensatory award
The aim of the compensatory award is to compensate you for any loss of earnings and other direct losses as a result of the unfair dismissal in the amount that the Tribunal considers to be just and equitable in all the circumstances. This is capped at
either 52 weeks' actual gross pay or a statutory cap of £83,682 – whichever is the lower. The cap is reviewed every April in line with RPI. This is the cap applicable for the period 6th April 2018 – 5th April 2019.
The Tribunal takes the following matters into account in assessing your loss:-
loss of wages and any benefits
loss of future wages
loss of statutory rights (it takes 2 years before you have unfair dismissal protection / eligibility to a redundancy payment)
loss of pension
Assessing future loss is always going to be a crystal ball exercise for the Tribunal unless you have managed to find another job before the hearing date. Future loss can include both a period of complete loss of earnings until you get another job and also a claim for partial loss if you were to get another job at a lower salary and take some time to get back up to your salary prior to dismissal. The Tribunal will need to identify an appropriate cut-off point for compensation if you have not secured any new employment, taking into account factors such as:-
would you have been dismissed in any event within a short time? (for example due to a site closure or impending restructure)
are you close to retiring or suffering from poor health?
the labour market conditions – employers may be able to produce advertisements for suitable vacancies?
The period of future loss may in some cases be quite short, for example, the Tribunal has awarded an employee just three months' loss where he was fluent in several languages and had a university degree and already had a temporary part-time job by the date of the hearing.
Future loss in excess of two years is rare, but not impossible – the Tribunal has in extreme cases award "career loss" up to normal retirement age, where for example claimants have been a matter of years away from retiring and may struggle to find another job, or are not in a position to pursue their former career or even work again, particularly where the dismissal was also discriminatory.
How your compensatory award can be reduced
You are under a duty to mitigate your loss, which means you must make reasonable attempts to find alternative employment and you will be required to provide evidence to the Tribunal that you have done so – so retain copies of all applications and responses from prospective employers. If you do not do so, your award could well be reduced. If the Tribunal finds in your favour on a technicality, it is open to your employer to argue that if they had followed a proper fair process, you would have still been dismissed in any event, then your award could be reduced on a percentage basis. The Tribunal have in some cases used 100% and wiped out any compensatory award. It is also possible for the Tribunal to reduce your award to take into account any contributory factors by you, which led to your dismissal, such as your behaviour where there was a case of misconduct. This is called "contributory fault." Again, any reduction would be on a percentage basis.
In some cases, there is no cap on the compensation that can be awarded. These include cases where the dismissal was because you blew the whistle or were taking part in health and safety activities.
Compensation in Discrimination cases
Unlike in unfair dismissal, there is no ceiling on the amount of compensation a tribunal can award for discrimination cases. Compensation can include a claim for:-
financial loss (as for unfair dismissal but there is no statutory cap)
injury to feelings (please see the "Vento" guidelines below)
personal injury (where injury has been suffered, which in this context would most probably be psychiatric injury)
aggravated damages (for the most serious cases where the employer's actions have aggravated your injury)
The Court of Appeal have set out 3 bands of compensation guidelines for injury to feelings, depending upon the seriousness of the case. These are referred to as the " Vento" guidelines (and change at the time of judgment due to being linked to the RPI):-
Top Band:- £26,261 – £43,769 (for the most serious cases, e.g. A length campaign of harassment, although this can be exceeded in exceptional cases)
Middle Band:- £8,754 – £26,261 (for serious cases which do not merit the top band)
Lower Band:- £875 – £8,754 (for less serious cases e.g. a one-off or isolated incident)
Breach of Contract Claims
Please note the limit for breach of contract claims (for example notice pay or wrongful dismissal) in the Employment Tribunal is £25,000.